Today we are crying purple tears. Prince is dead at the age of 57 and the world is in shock.
Especially fans who saw him perform Saturday night April 16th at a pop up dance party he organized through Twitter
Prince told fans Saturday night "Wait a few days before you waste any prayers."
He organized Saturday night's gathering through Twitter. He invited fans to come to his Paisley Park complex in Chanhassen, MN "2 GIVE THANX 4 THE GOOD WEATHER AND 4 ALL THE LOVE AND SUPPORT". The cover charge was $10.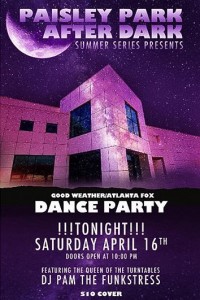 This was after Prince was taken to the hospital in Moline, Il. His private jet made an emergency landing there Friday, April 15, 2016. He was on his way home to Minneapolis after playing two concerts n Atlanta that night. After what was reportedly a brief hospital visit, Prince tweeted, "I am #transformed."
An autopsy is being performed and it will be a few days before an official cause of death is determined.