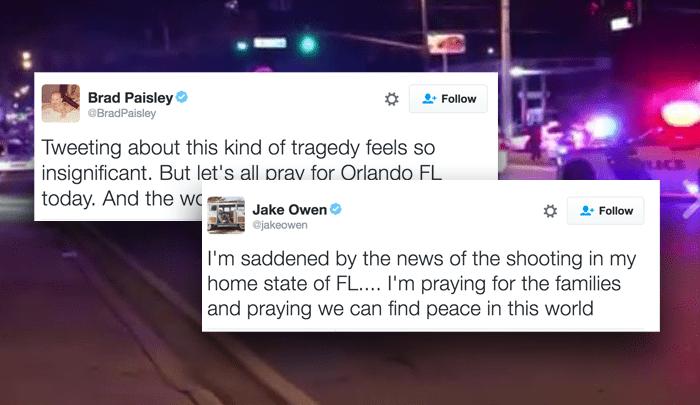 Following the mass shooting at an Orlando LGBT nightclub, that so far has left 50 people dead & another 50 injured, the music community as a whole has come together to offer their support for the victims & their families.
Just now catching up on the tragedy in Orlando… Sickening. Praying.

— Blake Shelton (@blakeshelton) June 12, 2016
Saddened by the news this morning. Such a shame. My thoughts and prayers go out to those affected in Orlando.

— Luke Bryan (@LukeBryanOnline) June 12, 2016
I'm saddened by the news of the shooting in my home state of FL…. I'm praying for the families and praying we can find peace in this world

— Jake Owen (@jakeowen) June 12, 2016
Tweeting about this kind of tragedy feels so insignificant. But let's all pray for Orlando FL today. And the world. I'm in disbelief.

— Brad Paisley (@BradPaisley) June 12, 2016
In honor of those in #Orlando, don't run. Don't hide. Don't fear. And never hate. Be 100% yourself in spite of the ass holes in this world.

— Brothers Osborne (@brothersosborne) June 12, 2016
Sickening again. Prayers going out to Orlando, and at this point the rest of the world.

— Chase Rice. (@ChaseRiceMusic) June 12, 2016
Another tragedy to wake up to. And in Orlando again. Disgusted by these shootings.

— Cassadee Pope (@CassadeePope) June 12, 2016
https://twitter.com/KaceyMusgraves/status/742013664362958848
Can't believe the news about Orlando. Thinking about all those affected. Stay strong. #PrayForOrlando

— Cole Swindell (@coleswindell) June 12, 2016
The shooter has now been identified by the FBI as 29 year-old Omar Mateen. The Orlando Police Department, along with the FBI continue their investigation into the shooting, which has now been confirmed as the deadliest mass shooting in U.S. History.